Sea Lungs stems from the idea that you don't need to meet face to face to make music. It can be made from anywhere, anytime. Collaboration in defiance of isolation, threads strung across state lines to knit something taut and redemptive.
The musical brainchild of one Jarrad Robertson (Pigs of the Roman Empire, Snakes of Neptune), Sea Lungs is a project that grew life (and lungs) as it skirted about the celebration of grim Victoriana. Tales of gin-soaked dockside demise and predatory aristocrats are buoyed upon the angular elbows and swirling psychedelia of post-punk shapes to create a debut statement of intent that both seethes and bounces with a rough-hewn charm that seduces even as it unsettles.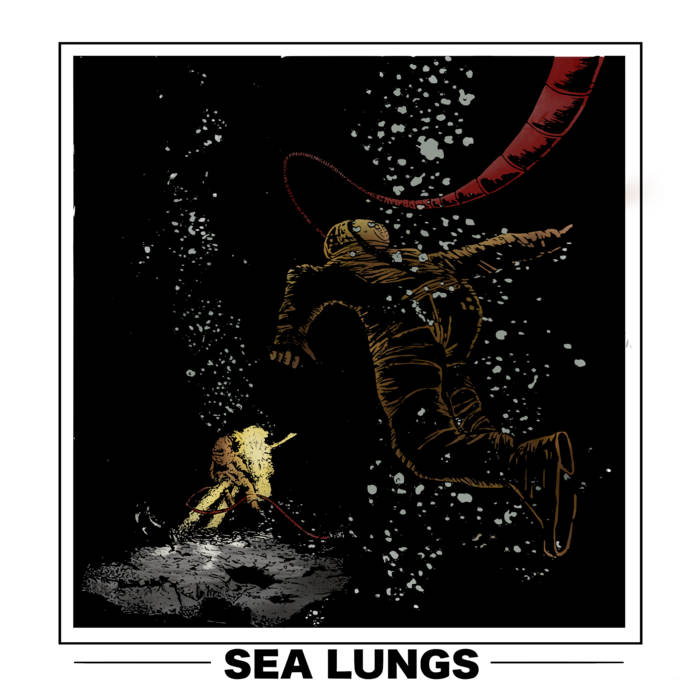 A malleable affair whose ranks will swell and recede like the tides as necessity dictates, for this first strike Jarrad is joined by Dase Beard (Well), Michael Johnson, and Andi Lennon (Sound Like Winter, Howl) each of whom salted the pot as it came to the boil, bubbling onto bandcamp for your indulgence. Mixed by the prolific Ant Banister of Mantravision Productions, a bow was tied on this not-very-bon-mot for your delectation. A curious crew of dilettantes, a shared reverence for the ocean and all the stories that stem from salt is the aesthetic touchstone that binds them here.
"Sea Lungs Pt.1 brings us two post-punk/deathrock tracks. The first one, "Eel Pie" manages to transmit a sense of danger thanks to some sharp guitars and a seducing voice. The second one, "Governor's Ball" is pure deathrock, a perfect track to sing along, raising your fist as you caress your knife with the other hand. Now, we want a Pt.2." – El Garaje De Frank
"Driving, rough, and punchy. We like the rhythmic groove on the piece that evokes just the right grit. It's eclectic, oddly holding, and psychedelic. The song blends elements of post-punk, garage, lo-fi, and psychedelic rock. Appreciate the unconventional riffages juxtaposed with restless drumline. It gives off a curious mood, with its dark, deep, grainy flow". – Unxigned.com
Available now as a 'pay what you want' offering and with new tracks currently in sinister gestation, this is one quayside attraction to keep a wary eye upon.
"Circling as in ellipses
Pissed and reeking of the crime
Cephaeline, entwined in ditches
Blessed to row above the rime
We'd not the breath to ever stop for death
So he kindly came and stopped for me
It weren't my soul he sought to drag on home
Just a portion of my lay…"
Andi Lennon